*This article may contain product links which pay me a small commission if you make a purchase. Learn more.
Everyone wants to play Division-1 softball and they pool all their recruiting efforts to this goal. But college softball has LOTS of levels, and most players do not end up at a D-1 school.
So, what is JUCO softball (also known by its formal names of Junior College softball and NJCAA softball) and why should you care?
In this article we'll cover common questions about Junior College softball and talk about the level of play, why it's right for some players and not others, and who should consider it in their college softball recruiting plan.
Jump anywhere in this article using the table of contents below.
Okay let's jump into it with some quick questions:
Quick JUCO / NJCAA Softball FAQ
What does JUCO softball stand for?
JUCO stands for Junior College, and they play in the NJCAA. JUCO softball is a good brand of softball in which players get the chance to grow physically and academically before hopefully transferring to a four-year university.
What is NJCAA softball?
Junior College softball schools, often referred to as JUCOs, play within the NJCAA. The NJCAA is the National Junior College Athletic Association and it governs the Junior Colleges. Playing in the NJCAA provides softball players a chance to improve both academics and softball skills before transferring to a four-year school. JUCO players have the opportunity to go to NAIA, D3, D2 and D1 schools. These schools might not have recruited the athlete in high school, so JUCO gives the players a chance for a second look. Junior Colleges within the NJCAA can be either private or public and generally have much cheaper tuition compared to their 4-year counterparts.
What are the best NJCAA softball programs?
According to NCSA Sports: Seminole State (FL), Florida Southwestern State (FL), Central Florida (FL), Chipola (FL), Tyler (TX) and Salt Lake (UT) make up the top softball JUCOs in the country, These NJCAA softball programs are so strong, they will regularly be considered by 4-year universities when looking for transfers.
Why do players go to Junior College for softball?
Though there are many reasons a player might go to Junior College, there are four most common. #1-To have time to develop further. Many players who wish to go D-1 go to a JUCO first to get stronger, faster and more skilled to increase their chances not only of going D-1, but increasing playing time there. #2-To save money. Generally, Junior Colleges are much cheaper per credit hour. With these cost savings, JUCO saves athletes an incredible amount over their four year eligibility. #3-The chance to improve academics. If players do not have the best high school grades or their standardized test scores weren't very good, JUCO offers a chance to reset so an athlete can meet the four-year academic standards. #4-Staying close to home. Some players who are a little immature or not ready to go off to a large campus on their own might opt to stay close to home at a local community college. This allows the player to experience college with smaller class sizes and support of family.
Why Should Fastpitch Players with D-1 Aspirations Consider JUCO Softball?
It's great to have dreams of playing at the highest possible level. Though it's a fantastic experience to play any level of collegiate softball, many players want the clout, competition and shiny facilities, gear and travel that D-1 softball has to offer.
It's impossible not to dream of playing at the highest possible level. Though your experience can be amazing at any level of collegiate softball, most players aspire for the competition, crazy facilities, sweet gear and travel that D-1 softball boasts.
Check out these gorgeous photos from the North Dakota State University Twitter account…THAT is why players aspire to play D-1 softball.
Our own Tharaldson Park has been named 2020 @NFCAorg @NettingPros Field of the Year in NCAA Division I. Thanks to the Tharaldsons and all of our supporters for this incredible facility!

▶ https://t.co/ToZxXxcEyf pic.twitter.com/dI4MkXulRZ

— NDSU Softball (@NDSUsoftball) November 6, 2020
But what if you have not been recruited by any D-1 schools? What if you're not at that level yet? What should you do?
If you're still deep in your recruiting process, be sure to check out my recruiting videos on this playlist – most are non-specific and apply equally to baseball and softball.
Make sure to spread yourself around with a good recruiting video and email college coaches.
Should you go JUCO?
Let's start with four reasons it makes sense to go play NJCAA softball.
Reason 1: JUCO Softball is Perfect for Players Who Need Time to Develop Their Skills.
Coach Andrew Sacks who works with tons of softball players in the Baltimore-Metro area and is a co-creator of the Early Work Softball Strength program, said this:
High schoolers: if there's a missing piece of your game/development (velo/speed/power/etc) keeping you from playing at the collegiate level you want, consider JUCO. Knock out gen-eds for less money, develop your weak points, and doors will open for you after your time there.

— Andrew Sacks, CSCS (@Andrew_Sacks) January 9, 2021
His point hits the nail on the head: JUCO softball programs can do a ton of good if you're just not quite there yet.
If you need a great softball training program, check out the program Coach Sacks and I built together. You can sign up below.
Need a Great
Softball Workout Plan?
Versions for all ages with a 14-Day Free Trial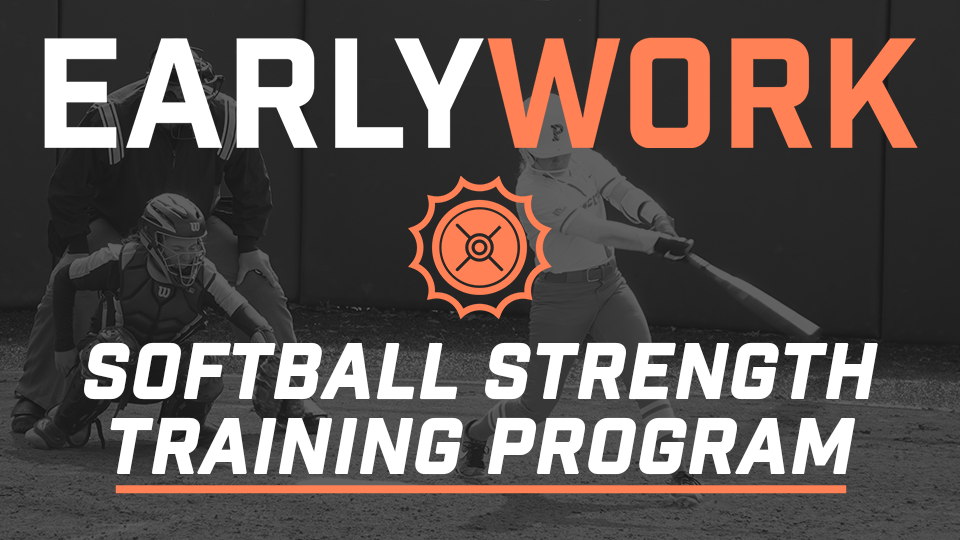 Early work is a great solution for cost-conscious families who still need a great strength program.
Reason 2: Going to Junior Colleges Saves Money.
It is incredibly expensive to go to college. Truthfully, the system is broken. Going to college currently produces one of the lowest return on investments ever. It's not a secret any longer, either.
NYU professor, Scott Galloway, breaks down how badly the university system in the US needs reform.
I'd encourage you to watch his short video below.
If you and your family don't have tons of money to pay for an expensive four-year university and scholarships don't seem to be making a dent, NJCAA softball makes a lot of sense.
Reason 3: Junior Colleges Can Help Fix Poor Academic Standings.
Remember, to be a student-athlete, you first have to be a student. Academics are incredibly important to playing collegiate softball.
With poor grades or test scores in high school, the question of should you go JUCO? is an easy one: YES.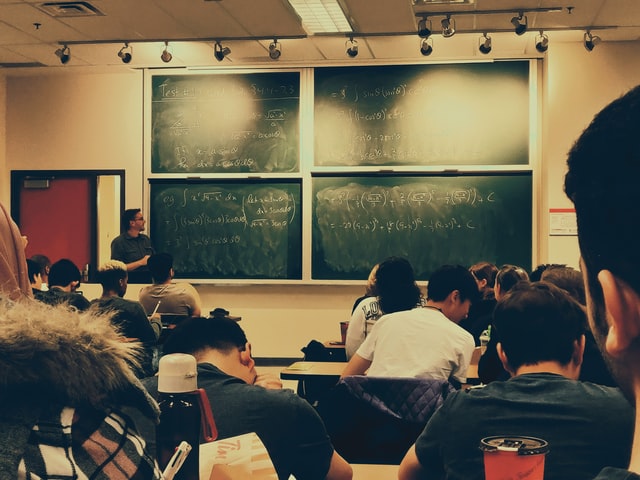 Many younger athletes (myself included) aren't academia's number one fans. If you don't show enough effort while still in high school, many 4-year schools won't recruit you based solely on academics.
So maybe you didn't give high school much effort but now you are ready to turn over a new leaf–or maybe you just don't have any other schools as options–playing softball at a 2-year junior college could be the best choice.
Reason 4: You're Not Ready For a Big School Yet
At 18-years-old, most kids are still….kids. And immaturity is something that takes time to grow out of. Going to a large school hundreds of miles away from home might just be a recipe for disaster for some young student-athletes. Starting at a NJCAA softball program might be an easier route to success.
The Reality of Big Four-Year Schools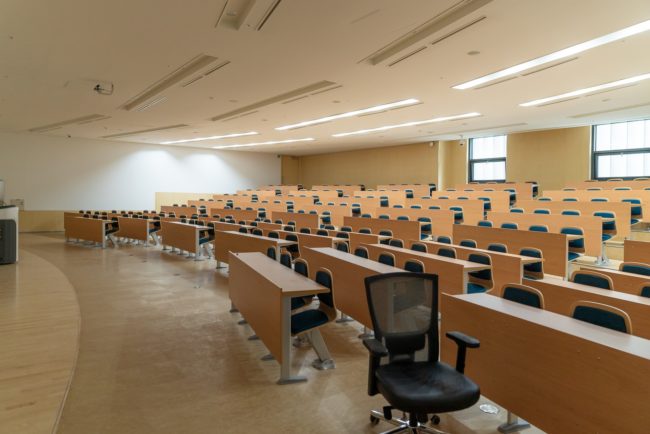 So let's suppose you do get the opportunity to play for big State University. Amazing! Congratulations! But what will that be like?
Massive campus with 30,000 students
Oversized classes with little to no one on one with teachers
Strict softball schedule that must be carefully balanced with academics
Lots of freedom-which can sometimes be a bad thing
Potentially too far from home for even a holiday visit
Constant pressure to perform on the field to keep one's position and scholarship
This is often too much for young ladies who are still–more than they'll admit–kids.
Playing a collegiate sport is so much more than athletics. Work life balance matters SO MUCH at this life-stage.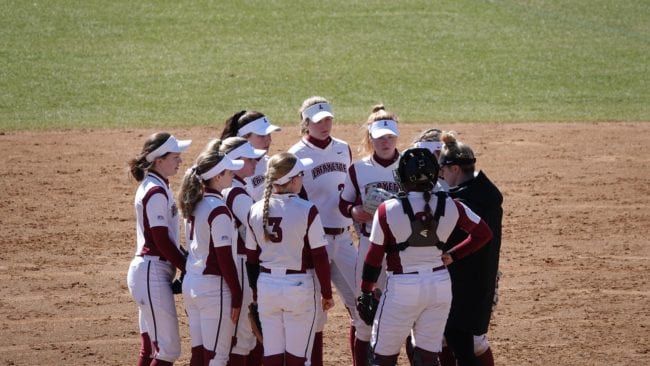 Each semester at all schools, in every sport there are freshman student-athletes who cannot adapt to college life and end up failing.
They don't meet academic standards.
They cannot balance their time.
They struggle to meet expectations on the field.
The struggle with relationships.
They struggle with mental healthy because of the overall load on their shoulders.
Going to college is a huge change and it can certainly overwhelm this group of student-athletes,.
It can sometimes be up to the parents to make a more informed choice for whether their child is ready to jump into the freedom afforded by a large university. Though many athletes are ready, some are better off going the JUCO softball route so they can adapt a little slower and still succeed.
What is JUCO Softball Competition Like?
JUCO softball varies quite a lot–from outstanding teams who could beat many D1s (and do) in fall matchups…
…to downright awful teams that could get their butts kicked by strong high school programs.
It very much just depends. Here are a few clips of NJCAA Softball National Championship to get a look into the highest junior college talent.
Remember, these are the best of JUCO so do not be discouraged if you don't feel you could hang with this team…
What Determines if a NJCAA Softball Program is Good?
There is also lots of outstanding NJCAA softball across the country.
Resources, history and culture, name recognition and location are major factors in a program's quality in ALL levels of college sports.
Budgets vary widely – Although there are great coaches who aren't in it for the money, low-paying coaching gigs also don't attract the greatest talent.
Facilities vary widely – Fields don't make the team, but poor quality athletic facilities don't attract high-quality players.
Winning matters – The best players generally are choosing teams that win consistently.
Location – JUCOs in or near big cities often have a higher appeal than those in very small towns.
Are there several outliers to these rules? Of course.
There are tons of outstanding programs that compete every day at an extremely high level, transfer players to top D-1s and even eventually the olympics. These softball programs have amazing facilities and coaching staffs.
Looking forward to our @ICCSoftball team to take the field at the recently renovated softball complex #RollTribe #NJCAABack pic.twitter.com/vgBLEpOPyA

— ICC Athletics (@LetsGoICC) August 9, 2017
Remember: There is a Wide Range of NJCAA Softball Program Quality
Most of the NJCAA softball teams do not have giant budgets for facilities, coaching staffs and resources that can be found at the much bigger 4-year universities.
Schools that combine low budgets, poor facilities, losing records and remote locations will not consistently attract the best softball players.
As with every level of college softball, when the financial resources are there, facilities can be added and upgraded. Fancy weight rooms and beautiful fields attract better players. With better players, the team should win more and a snowball effect happens.
Do Your Homework if You're Considering a JUCO Softball Experience
A very important thing to know is that you HAVE to do your homework when it comes to researching schools. The level of play is much more varied at the JUCO level than D-1 or D-2 based on financial resources, scholarship opportunities, facilities and such.
Email college coaches at all levels and see if or what they reply. This video below shows you how.
Reaching out to a large pool of schools is a good thing!
Matching Your College Softball Recruiting Plan to Your Ability
Is D1 going to actually be realistic for you? What about D2 or D3? How good are you? Do you have a college softball recruiting plan?
Before you proclaim your kid is destined to "go D1" you should probably go checkout your local JUCO squad and see if your kid can even play there … There are JUCOs (and D2s, D3s, NAIAs) that'll legit embarrass some D1s. That's not even close to an exaggeration either.

— Nick Buonocore (@Nick_Buonocore) January 8, 2021
I like this quote from Nick Buonocore on Twitter. His point is 100% correct – many parents and players don't have a good familiarity with the level of play even on their most local collegiate teams.
Ask yourself: would you get playing time on the JUCO in town?
Forget the D1s for a second and start there. Being honest with yourself is important here. Get out to some games and truly see what their talent levels look like.
If you want to improve your game, get help with one of my programs.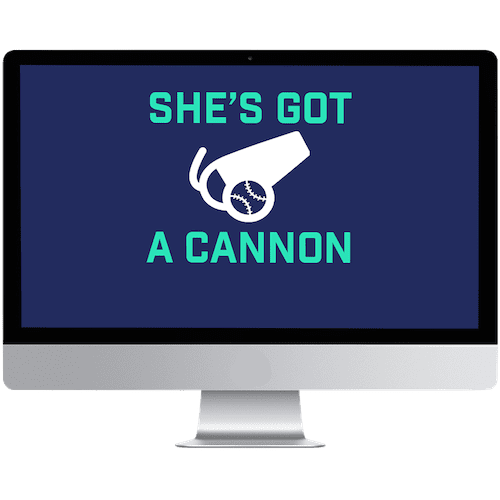 Do Junior College Softball Players Transfer to Good Schools?
Let's check out a JUCO success story. I have no ties to the University of Tennessee and I do not know this particular player, but the Lady Vols play in the SEC, one of the top D1 softball conferences in the nation. If that's not a success story, I don't know what is.
First newcomer on this year's countdown is JUCO transfer & Tennessee native @sheridanallen! #21Days pic.twitter.com/NkYd4yrQgH

— Tennessee Softball (@Vol_Softball) January 21, 2017
Butler Community College has one of the top ranking JUCO softball programs.
The team won back to back National Championships in 2016 and 2017. The following tweet proves that JUCO not only offers you an avenue to eventually go D1 but also the chance to represent the United States on the National Team.
BUCO Graduates @BrynnMinor & @RMergele headed to Canada to represent @TeamUSA Juco Softball team pic.twitter.com/hMEyumooXL

— Butler Softball (@BUCOSoftball) July 3, 2017
Both athletes went D1 after their stay at Butler CC. Brynn Minor went on to play at University of Kansas while Regan Mergele continued her career at University of Nebraska.
Is Choosing NJCAA Softball Good or Bad For One's Career?
I think the main risk players are concerned about is not getting a chance to play big-time softball for a name brand school.
Players have to remember that when you go JUCO, you go through the recruiting process twice. This might not seem ideal because recruiting is a stressful time for you players.
Many NJCAA coaches do a phenomenal job helping their players transfer to four-year schools. It in turn helps them recruit higher level players.
Some do not, unfortunately. This is where the risk of JUCO could be seen:
Say you turn down a small four-year to go JUCO. Then even with two good years at JUCO, another four-year might not make an offer. Sadly, this could happen to some players.
Is the Junior College softball route right for You?
It may or may not be. It is up to you to do your research and consider all of your possibilities.
Hopefully this article has helped you see more to JUCO and the factors to consider during recruitment.
Important Softball Resources For Aspiring Players
If you're considering the NJCAA route, then you must still need to improve. I've got resources that can help:
Sign Up for Free for My Online Strength Program, Called Early Work
Early Work is a great fit for players who need to get bigger, faster and stronger in their school or local gym.
Need a Great
Softball Workout Plan?
Versions for all ages with a 14-Day Free Trial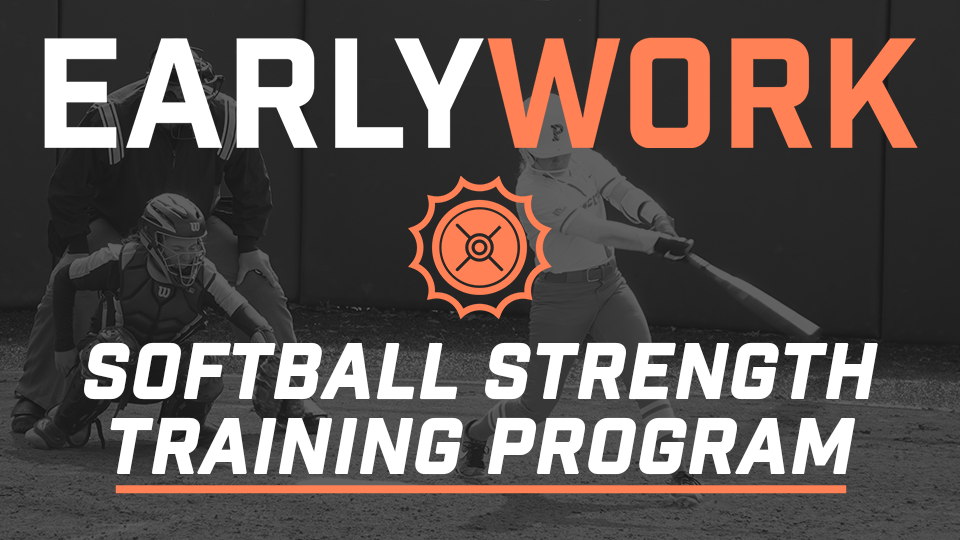 Try it out – it's built just for fastpitch players with versions for all ages.
Thanks for reading!
I hope this guide to JUCO softball recruiting was a big help!