*This article may contain product links which pay me a small commission if you make a purchase. Learn more.
Fastpitch softball pitchers are always looking for an edge, and one way to maximizing their effectiveness in the circle is by using margin for error to their advantage. In this article, you'll learn how pitchers can chop up the plate and target different portions of it based on the count, to get ahead more often and move the ball away from the middle of the plate when it counts.
Chopping Up The Plate: A Pitcher & Catcher Strategy
Our goal is to best use the concept of margin for error to determine which locations our catcher will set up in.
Middle of the Plate
Aim down the middle when early or behind in the count, because it gives the greatest likelihood of throwing a strike – you can miss far from your desired target and still end up in the zone. Being ahead in the count is key, so be aggressive with the zone. 
Halves of the Plate
When in even counts, pitch to the halves – inner half or outer half. 
1-1 Count
2-2 Count
3-2 Count (also an even count because neither has an advantage
(we're not including 0-0, but you can definitely throw to halves on 0-0)
This starts moving the ball away from the middle and gives a greater likelihood of missing to one side of the plate versus the other, which is a good thing for the pitcher (bad for the hitter).
Thirds of the Plate
Thirds are the gold standard for all high-level pitchers, choosing the inner third or outer third while staying OUT of the middle third. 
Corners, Elevate & Bounce
This is our strikeout, zero-sum location in which we want one of two outcomes only: a strikeout, or a ball. We don't want the pitch hittable, because we don't want any chance for an error, blooper, seeing-eye single, swinging bunt, etc. 
Strike her out or it's a ball. One of those outcomes. Save the weak contact for other counts.
As a side note, pitching on the corners of the plate isn't really a strikeout location because the hitter could make contact. But, a pitch on the black is so hard to hit hard that we can include it here.
Watch The Fastpitch Strategy Video For a Deeper Explanation
I explain in-depth why pitching to the corners too often isn't a great idea, and why softball catchers and pitchers should consider middle/halves/thirds/corners as a main thought process.
Want to Improve Your Overhand Throwing?
If you're interested in throwing harder from the field (I specialized in teaching softball players how to throw harder overhand) download my free eBook.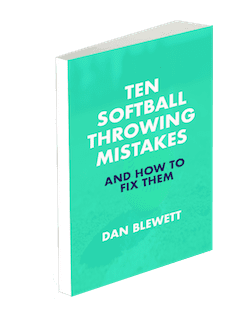 I also offer an extensive online course on throwing that will help any player gain miles per hour and accuracy on her throws. It's called She's Got a Cannon and it's an amazing step-by-step resource for players, parents and coaches.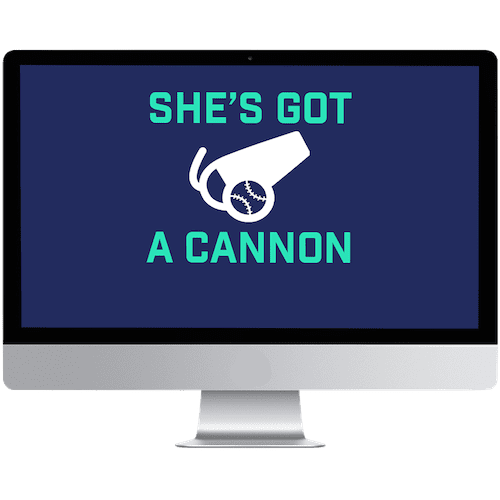 Good luck this season! – Dan