In this article, I'm going to share a few essential pieces of equipment that any coach can use to create simple and effective softball workouts for their team. Strength workouts for softball can be easily performed in any open space with the right equipment, drills and techniques. The right equipment helps maximize effectiveness whether it's one player or 100 performing a given workout, so let's explore a few of my favorite pieces.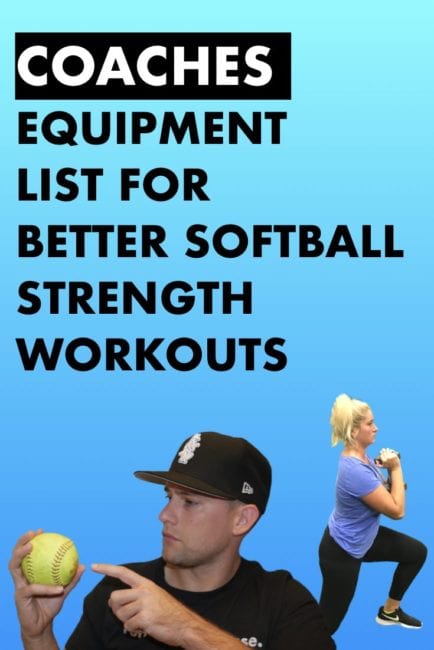 Cost-Effective Strength Equipment & Exercises for Softball
I'm a cost-conscious person, so I always try to find the best balance of cost and value.
One thing I've learned over the years as a baseball and softball academy owner is that the cheapest product is not always the least costly. At Warbird Academy we learned early on that buying cheap products often forced us to re-buy the same things again when they broke.
Keep in mind that sometimes spending a little more is worth it for a substantial increase in durability and longevity.
Note: This article contains affiliate links, which means that if you buy a product from a link on this page, I may receive a commission at no additional cost to you. This helps me continue to produce great free content for the softball community, so thank you in advance.
Essential Strength Exercise #1: The Sliding Leg Curl
The sliding leg curl is perhaps the BEST exercise players can do in an open space. The hamstrings and glutes are weak and underdeveloped in almost every player, yet they are the key muscles involved in throwing and sprinting faster. The sliding lunge (below) is also a great exercise.
For players who want to get faster (and who doesn't?) these are a MUST. Fortunately, they're safe, easy to coach (just yell a lot for players to go slow on the way down) and require only paper plates or cheap sliders.
Required Equipment: Paper Plates, Frisbees or Sliders
We prefer sliders because they last forever and aren't expensive. But some teams use paper plates or frisbees, however frisbees are NOT typically cheaper than sliders, nor do they work as well.
Go here to check out the very durable and easy-to-use sliders we use everyday.
Softball Strength Exercise #2: The Band Pull-Apart Circuit
I'm going to include one video here, but check out this complete article of mine that details all of the main Theraband CLX exercises that we use with softball and baseball players.
Required Equipment: Theraband or Looped Bands
You can make do with lots of types of bands, but these two recommendations below will be the most convenient and effective, based on my years of experience training athletes and teams.
Theraband CLX bands
I really like the Theraband CLX, as they're small, portable and reasonably durable. They're certainly not bulletproof, but they last a season for the vast majority of our players who take care of them.
Go here to check out the Theraband CLX – they come in single pre-cut bands for one person, or 25yd boxes that are $120-$190 dollars but will get you about 22 bands when you cut them yourself ($6-8 per player).
41″ Looped Bands
For an ultra-durable option, these 1/4″ looped latex bands are great–they are the same bands used for assisted pull ups and we actually used to sell them.
Go here to check out the 41″ flex bands on Amazon. They're about $10 each but are basically bulletproof.
Softball Strength Exercise #3: Sandbag or Goblet Squat
The goblet squat requires a single dumbbell or kettlebell, and if you have access to them you're all set.
The goblet squat is the best squat variation for beginners–they're safe, easy to perform and coach, and teach good squatting form. But, if you don't have access to dumbbells or kettlebells at your facility, consider making some sandbags, which will be a great, multipurpose solution.
The video below shows a more expensive sandbag option that is great, though pricey. Below the video you'll find my pick for more cost-effective options, where you can buy a bunch and have them for the whole team.
Required Equipment: Sandbags
Go here to check out fitness sandbag options on Amazon, including the one shown below that is highly-rated.
Fitness Sandbags
There are LOT of ways to get creative with sandbags, and you can find all sorts of options to fit your budget. But if your whole team is going to use them, perhaps consider going with a more durable option like the above.
You can throw multiple "filler bags" inside the one larger bag to make the weight customizable. You could have one station with a 40lb bag, one station with a 20lb bag, etc. for different exercises and athletes.
Softball Strength Exercise #4: Farmer's Carries with Fat Grips & Buckets
You can easily use your existing ball buckets with Fat Grips slipped over the thin wire handles. This will give your players a tremendous forearm exercise, even if the weight isn't too heavy. If you have dumbbells–even just a pair or two (in the 20-50lb range) they would be the best solution.
Yes, the 2″ grips shown below are thick and will be tough to hold, but that's the point. For girls with exceptionally small hands, shop around for smaller grips.
Recommended Equipment: Silicon Fat Grips & Buckets or Dumbbells
Fat Grips
Go here to check out Fat Grips on Amazon, and shop around for the many variations that might suit your softball team best.
Assembling The Exercises into a Workout
Today we've covered the following exercises:
Sliding Leg Curls & Lunges (best for indoors on a hard surface)
Band Pull Aparts for shoulder strength
Sandbag & dumbbell Squats and Lunges
Fat Grip Farmers Carries
All of these exercise types would make great stations within a practice or dedicated workout. I'm also a huge proponent for teaching the push-up properly, as it's a foundational upper body strength exercise for any athlete, male or female.
Enjoy This Article? Sign up for My Free Newsletter AND Get a Copy of my Free Throwing Mistakes Ebook.
Each week, I send out updates on new softball articles and videos. Over 1000 parents, coaches and players get my email newsletter. You should too!
Get added to the list automatically when you download my free throwing eBook.